16th September 2020
David Horn, Pearson National Lifetime Achievement Award Winner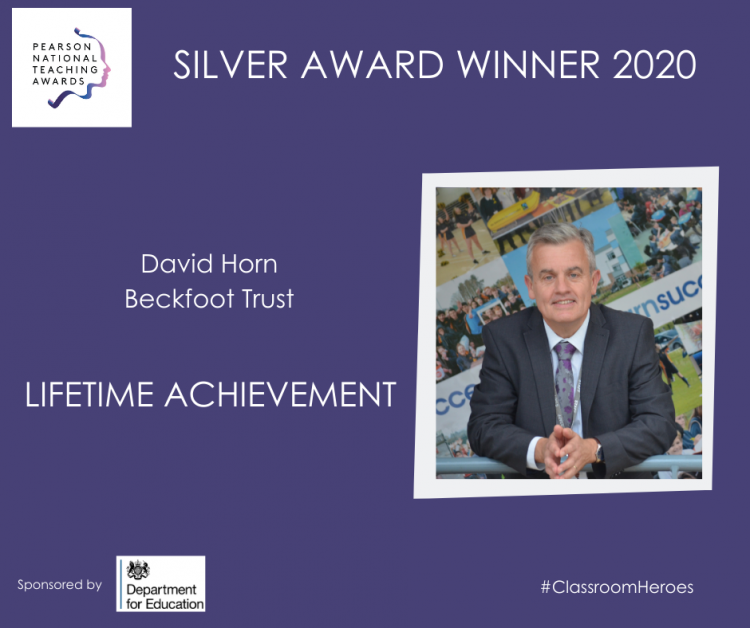 David Horn, CEO Beckfoot Trust presented with National Lifetime Achievement Award.
Selected from thousands of nominations, David Horn is one of just 76 Silver Award winners across the country. David Horn was honoured with a Silver Award in The Award for Lifetime Achievement for their outstanding commitment to changing the lives of the children they work with every day. We are delighted that David, the Trust and Bradford have been acknowledged in this way.
David Horn is CEO at Beckfoot Trust, and has spent the past 23 years working in Bradford education. Over this time he has helped thousands of young people and hundreds of staff develop and reach their full potential. He has committed himself to the principle that no child should be left behind and has a legacy of school improvement.
A commitment to effective leadership at all levels and in all areas led to the development of the innovative Bradford Partnership that David chaired, through which secondary schools worked collaboratively and transparently to develop models of improvement based on school to school support.
David Horn is now in the running for one of just 14 Gold Awards later in the year, in a programme which will be broadcast on the BBC. This is a great opportunity to celebrate the exceptional school staff who have worked wonders during an incredibly challenging time for educators across the country.
John Winkley, Beckfoot Trust Chair of Directors said: David came to Beckfoot School 23 years ago as a new headteacher.  Over two decades he led the school to achieving outstanding status with Ofsted and developed the Beckfoot Trust into a group of ten schools working together to provide remarkable education for our children.
Alongside leading schools through some of the most exciting and turbulent times, David has been a tireless champion for the children of the Bradford district, and the need for really great comprehensive education. 
I am proud to have worked with such an inspirational leader. On behalf of our Trust community I congratulate him on receiving this Pearson National Lifetime Achievement Award, so fitting for a life dedicated to serving others in our Bradford communities.
The Pearson National Teaching Awards is an annual celebration of exceptional teachers, founded in 1998 by Lord Puttnam to recognise the life-changing impact an inspirational teacher can have on the lives of the young people they work with. This year marks its 22nd year of celebrating, award-winning teachers, teaching assistants, headteachers and lecturers across England, Wales, and Northern Ireland.