Vision Lead
Outline of the Vision Lead Role at Beckfoot Phoenix
My purpose of a Vision Leader in the school is to:
Ensure that all of the visual impaired pupils are being provided with an effective teaching strategy.
To help promote each pupil to learn effectively and to encourage independency, enjoyment and engagement in whatever they are learning.
To encourage pupils to be happy and confident.
I will ensure this by making sure:
There are stimulating resources to help with the pupils learning. Example- Sensory VI Story Books.
Every visual impaired pupil works with a Vision Lead or Champion at least once a week, to implement the pupils individual visual impaired targets.
Each visual impaired pupil has an up to date VI pen portrait and that a multi-sensory curriculum is used to allow pupils to use their functional vision, as well as their senses, to explore their immediate world around them on a daily basis.
Sighted guiding is implemented each day with a our able bodies visual impaired  pupils.
Cane skills are used on a daily basis.
Outside agencies who specialise working with visual impaired children, to come into school, to guide, to advise and train the Beckfoot Phoenix staff and assess and work with the VI pupils when needed.
That all pupils have an individual visual impaired curriculum, tailored to their individual needs.
That all pupils have a VI program with targets, which is easily accessible to the member of staff working with the VI pupil.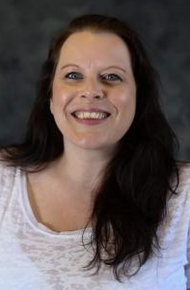 VISUAL IMPAIRED LEADER
Sharyn Tronnolone
Sharyn is available from 8:45am until 3:15pm Monday, Tuesday, Thursday and Friday.
If you need to speak to Sharyn on a Wednesday, please call between 1:30pm - 3:15pm.